Analytical Balance Manufacturer
Analytical Balance Applications
Basic Weighing, Parts Counting, Percent Weighing, Animal Weighing, Density Determination.
Due to their unique mechanism that can detect even the smallest changes in mass, Analytical balances provide extremely accurate results. To protect them from outside influences that might interfere with their operation, they are produced in clear boxes with doors. As a result, they must be handled in designated rooms with carefully regulated ambient conditions due to the requirement for extremely precise measurements.
The mass of an object is frequently measured using an
analytical balance
, which offers a high degree of precision of about 0.001 grammes. The
analytical balance
must be placed in a specific setting with controlled environmental factors for proper operation to prevent changes in the absolute value of the weighing.
Display
Backlit Liquid Crystal Display (LCD); Second line display for additional information or guidance (dot matrix)
Operation
AC adapter (included)
Communication
RS232 and USB device (included); GLP/GMP data output with real-time clock
Construction
Metal base, plastic top housing, removable stainless steel pan, glass draftshield, integrated weigh-below-hook, security bracket, calibration lock and in-use cover.
Design Features of Analytical Balance
User-selectable environmental filters and brightness settings, auto-tare, auto-dim, user-selectable span calibration points, software lockout and reset menu, user selectable communication settings and data print options, user-definable project and user IDs, software overload/underload indicator, stability indicator, four operating languages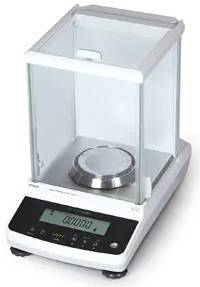 Adopts UniBloc, which provides excellent impact resistance, responsiveness, and stability
Equipped with the Easy Setting function, so responsiveness and stability can be adjusted during measurements
Buy a separately available I/O–RS cable to import the results to a PC
(Equipped with the Balance Keys function)
| | |
| --- | --- |
| Capacity | 82 g |
| Minimum display | 0.1 mg |
| Repeatability (Standard deviation) | ≤0.1 mg |
| Linearity | ±0.2 mg |
| Stabilisation Time*1 | Approx. 3.0 seconds |
| Operating Temperature and Humidity Limits | 5-40°C 20-85%*2 |
| Temperature Coefficient for Sensitivity (10-30°C) | ±2ppm/°C |
| Pan Size (mm) approx. | Φ91 |
| Main Body Dimensions (mm) approx. | 213(W) x 356(D) x 338(H) |
| Main Body Weight (kg) approx. | 6.2 |
| Power requirement | 12V, 1A |