Effem Technologies is a Leading Fume Hood Manufacturer and Supplier in Ghaziabad, India.
The main purpose of this Equipment is to offer a clean workspace for conducting testing and is to reduce exposure to the potentially dangerous gases, dust, smoke, and mist produced during chemical testing. Wikipedia has extensive information regarding the operation of fume hoods. We Effem Technologies is a fume hood suppliers and manufacturers in India.
Features of Fume Hood :
Auto bypass, Aerodynamic design, made of powder coated galvanized steel.
Internal corrosion resistant FRP work walls.
Easy to clean Black-jet granite work-top.
Toughened glass / Acrylic front shutter.
Service fixtures with sink, water tap & gas connection.
Tube light for bright illumination of work area.
Smooth and silent in-built blower.
Apparatus holding grid (optional).
Highly recommended for exhaust of toxic gases, acidic/alkaline fumes, chemical vapors, removal of odour etc from the hood working area.
Complete exhaust motor blower assembly generates a negative pressure inside the hood thus facilitating removal of all conaminants from the works area, into the atmosphere.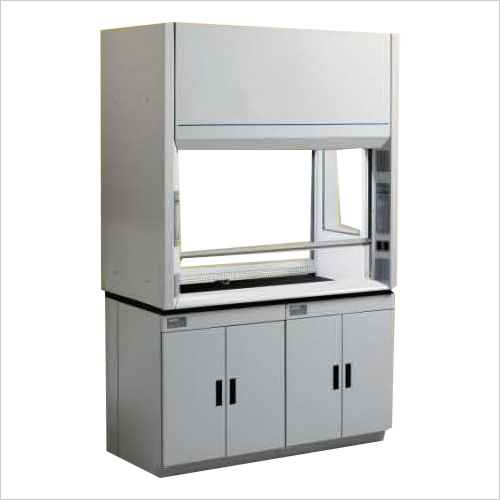 Our fume hood furniture is available in a variety of sizes and working heights, and we also create specialised units to satisfy unique user needs. This Hood are constructed from thick steel that is FRP coated on the inside and powder coated on the outside. Additionally, we produce full stainless steel. The granite stone surface and PP sink with tap and drainage system are included in these units. We installed a high capacity exhaust blower assembly with low noise operation at the top to remove fumes. We can install optional chemical storage cupboards beneath the worktop. Both of these cabinets can be moved. Accessories such a baffle system, a grid for holding the device, remote valves, and others are available as options.