Dissolution
Tester Apparatus
We are leading supplier of Dissolution Test Apparatus. EFFEM Technologies is renowned as an important manufacturer and supplier of hi-tech instruments used in the pharmaceutical industries, institutions and research laboratories. We are considered as is the most predominant Tablet Dissolution Test Apparatus manufacturer, supplier and exporter from India. We have both Microprocessor Based Dissolution Test Apparatus and Digital Tablet Dissolution Test Apparatus for the determination of active drug ingredient in any pharmaceutical formulation – tablet or capsule as per USP and IP specifications.
Features of Dissolution Apparatus :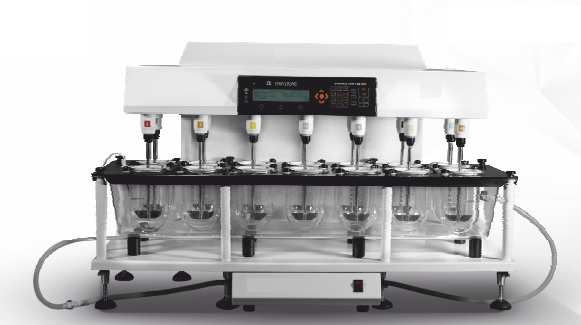 8 Station (Model – 1918)
6 Station (Model – 1916)
Complies with USP, IP specifications
Extremely Useful for Pharmaceutical Labs
Highly Accurate and Easy to Operate
19 Soft Touch Membrane Type Keys
Three Programming Modes i.e. Routine, Sustain and Control
20 Independent Programmable Setups for Routine and Sustain Mode with Storage Facility
200 Samples Storage Facility
Printer Attachment Facility
Audio Visual Indicators for System Status
Easy to Empty & Clean the Water bath with Bottom Drainage
Continuation of the Last Sample Run in case of Power Failure
Microprocessor Based Dissolution Test Apparatus and Digital Dissolution Apparatus evaluates adequate bio-availability and provides necessary information to formulate in the development of therapeutically optimum dosage forms. Dissolution Apparatus plays a vital role in product development, quality control, and research.
Electronics India is also counted among the leading manufacturer and supplier of other instruments like Double Beam UV-VIS Spectrophotometer, UV-VIS Spectrophotometer, Visible Spectrophotometer, Fluorometer, Dissolution Apparatus, Disintegration Apparatus, Friability Apparatus, Melting Point Apparatus, Bulk Density Apparatus, Tap Density Apparatus, pH Meters, Conductivity Meters, TDS Meters, Dissolved Oxygen Meter, Turbidity Meters, Nephelometers etc. from India.